World War Hulk Cover
October 23, 2011
The Minimate Multiverse Cover Contest made its return this year and I decided to take a stab at it and create a 3D entry using Blender. After some difficulty deciding on which cover to replicate, I settled on World War Hulk #4. It had five new Minimates that I hadn't yet converted to 3D models along with a few opportunites for special effects.
Read More...

Spider-Man Turnarounds
July 15, 2011
Well unfortunately, I didn't get the large rendering project done before Comic-Con like I had planned. As penance, I threw together a couple new turnarounds using existing Minimate models, both Spider-Man. The first is the basic Spidey from the
Day-O Dancing Animation
.
The second is 'tron-ified' Spider-Man from
this post
.
I'll have a work-in-progress version of the long teased 'large rendering project' at Comic-Con. If you're in the San Diego area and interested in seeing it, just ask. It should be easy to pick me out from the other 130,000 con-goers, right?

Cyclops Turnaround
July 4, 2011
The 'large' Minimate animation project I'm working on is taking longer than I originally estimated. So in the meantime I'm posting another turnaround from a completed project. This one is Cyclops from a
short video
I posted several months ago.
There will probably be one more of these before the large project is complete. (Hopefully before SDCC.) On the plus side, I'm getting better with
LMMS
by creating the short sound tracks behind the turnarounds. Now if I could only get some talent...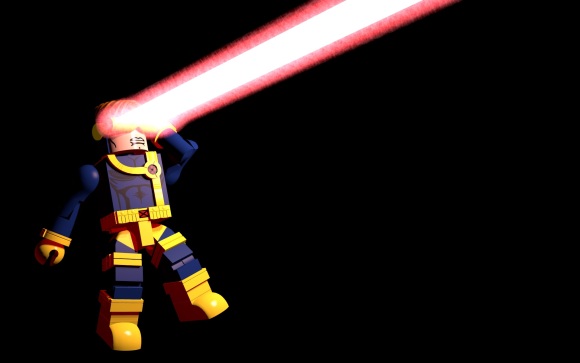 Dr. Doom Turnaround
June 22, 2011
Here's another Minimate 3D model, the inscrutable Victor von Doom. This was a very straightforward build. The belt/skirt and holster were easy to put together. The hood and the cape took more effort but still came out nice. It really mimics the look of the plastic Minimate cape.
This would have been posted a couple days ago, but I didn't realize I had forgotten something until after I uploaded the complete video to youtube. I overlooked the clasp on the cape. It existed, I just didn't import it from the other project before rendering the turnaround. I don't know how I missed something so obvious.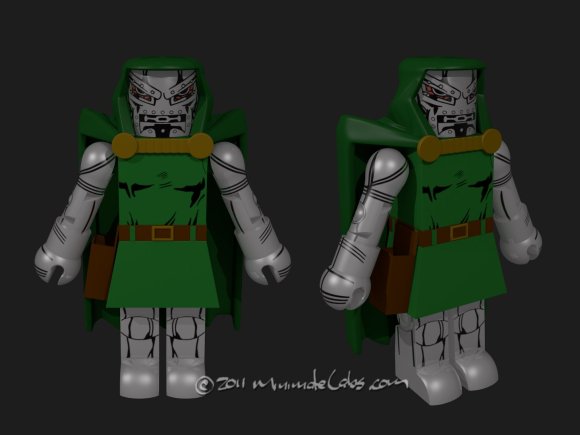 Doombot Turnaround
June 10, 2011
As I complete new Blender projects I'm slowly building a library of models (Minimate and otherwise) that I'll be able to use in the future. Here's one, the Doombot.
I had actually finished this model before he was released in Wave 37, so it doesn't quite match the 'official' figure. There weren't many promotional images that showed a good view either so I tried using some refernce images from the comics. It ended up close, but not exact. Totally missed the chestcap. Oh well.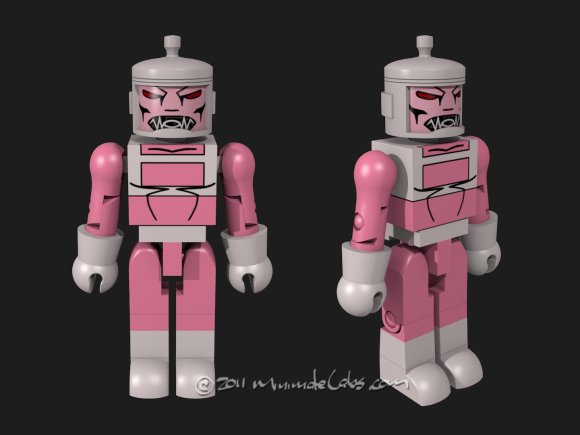 Blue Experiment 1
December 7, 2010
I'm working on a somewhat large Minimate rendering project and I've hit a bit of a initiative block. As my mind wanders, I start to play around with various material settings to see what happens. Sometimes they look pretty cool.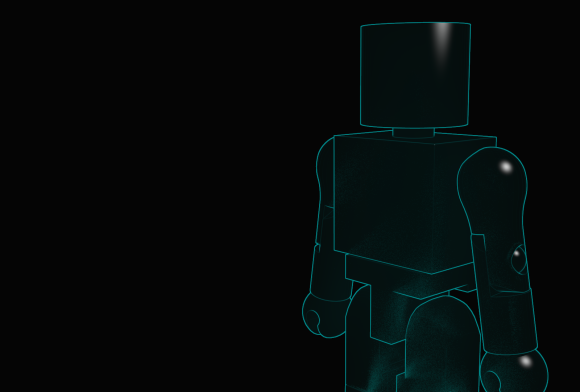 It's nothing high-concept or earth-shattering, but I like it. Click for a 1600x1080 version.
I hope to start adding these 'on the workbench' type posts on a more regular basis. Though I need to come up with a better way to describe them, preferably one that I didn't steal from Boyd.

Robot Assembly Render
June 13, 2010
After spending the last couple of weeks on this Minimate animation I've realized that it might be a bit more than I can handle right now. There's probably a good four minutes of storyboards all layed out. The scene and characters are all modeled and textured. Unfortunately, I'm running into problems with the animation process. Things that should be simple and straight-forward aren't working properly for me.
It's not the end of the world, I think I just made some mistakes early in the process that weren't apparent until now. The bad part is that I don't know what those were. So instead of starting over and repeating my mistakes, I'm going to scale back and accomplish smaller projects like a creating a Wolverine with functioning claws, Cyclops with an optic blast, Banner transforming into Hulk. Try to learn something from each little success.
I'm not scrapping the large animation project either. I'm just postponing it until I have more experience. Here's one of the many test renders I made for it.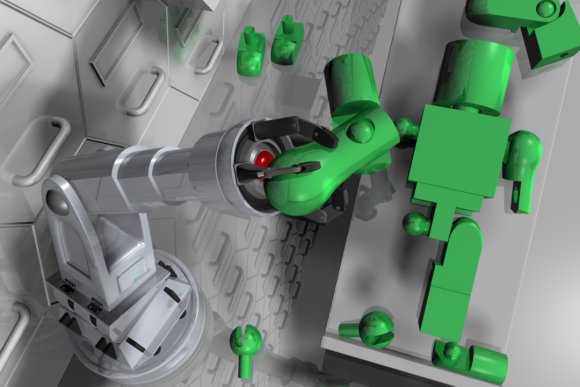 Click the image for a 1080x720 version.

Spider-Man Texture
June 3, 2010
Not only does the Blender community want to share their work, they want to share their knowledge. Many people take it upon themselves to produce tutorials (text-based and video) to demonstrate how to accomplish a particular task. I used a couple of these to figure out the best way to 'unwrap' and flatten a model so I could apply the Spider-Man texture. After unwrapping, I copied the layout and sent it to GIMP (an open source image editing program) where I re-created the familiar red and blue webbed suit.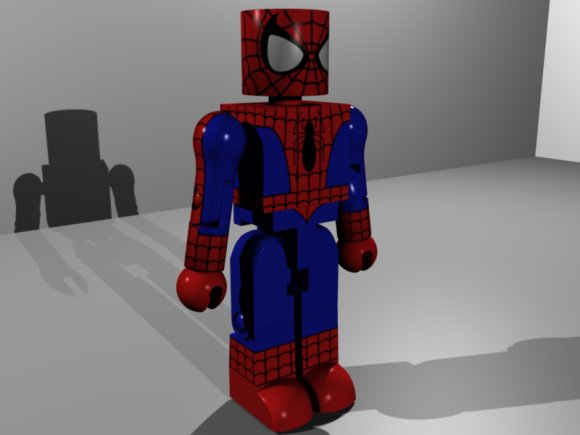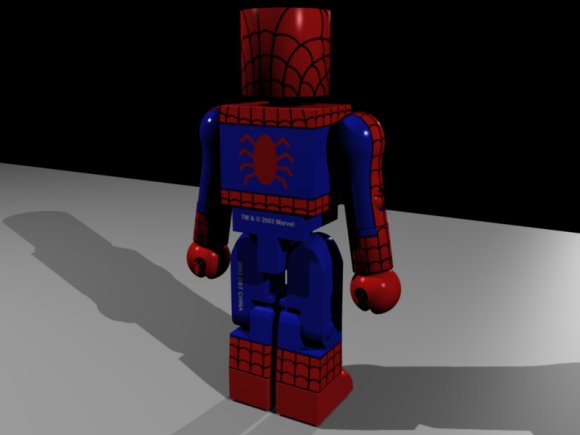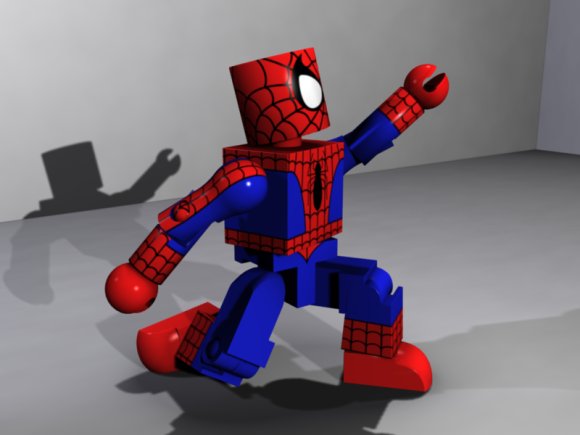 It's not an easy process, but I'm sure as I create more textures I'll get better at it.